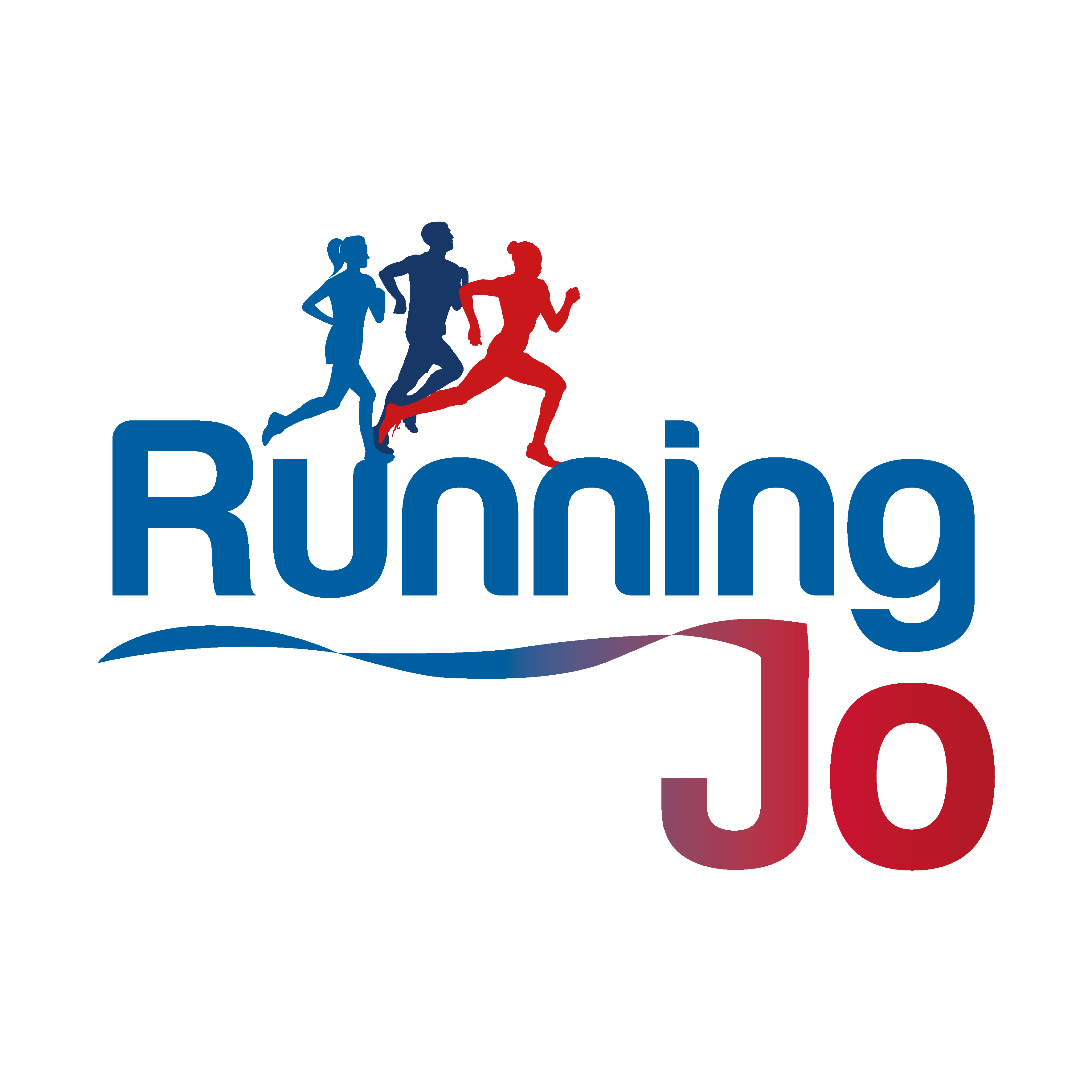 New Marathon PB 2:57:36
After around 10 years of running and a little less time spent running marathons, I contacted Jo to ask if she could help me inch a little closer to a 3-hour finish time. I'd completed a few Londons, the Marathon Majors and other marathons overseas in sub-3:15 times with a lot of self-motivation, discipline and determination. I approached Jo to see if some professional coaching could take me somewhere within a stone's throw of 3 hours.
With Jo's expertise, and forbearance I have to say, I ran 3:00:51 at London 2021. Which amazed us both! In that training block she had steered my running through my very stressful Covid wedding. That's the great thing about Jo – she's a total realist and friend who understands and adapts your training schedule to focus on the important things going on elsewhere in your life. You cannot be your best every day (much as I would like to be!) When time, stress, illness, injury or another setback comes along she navigates a path for you, leaving you in control and with clear, achievable targets. Your training schedule is always fixed around your other priorities, with regular feedback and dialogue.
Given the London time I was quick to set a goal for Manchester 2022 and achieved my first sub-3:00 there with 2:58:22. Again, not without a little angst and a lot of hibernation (or was it determination?) to fight the perilous virus. I would have kissed her, but we still hadn't met, despite having built a close, trusted relationship through her online training programme.
I finally met Jo after London 2022 and a second sub-3:00 PB where I ran 2:57:36 and finished 4th V50 woman. I am certain that I would not have achieved these marathon milestones without Jo (plus Half Marathon, 10 mile, 10k and parkrun PBs along the way). At 53 I'm not suited to endless miles! Jo has scheduled the tough stuff and some fun stuff to mix it all up. Not to mention the discipline of strength training to complement the running. Don't get me wrong, you have to commit to it and it's hard work, but I cannot thank Jo enough for the impact she has had on my running results, discipline and at times much needed self-belief. Jo has the experience, skills, and encouraging good humour to allow you to reach your full potential.
New Marathon PB 2:59:40
I could not endorse Jo enough as a running coach. I started with Jo approx 18 months ago and where do I start! Only to say my work with her got me to my ultimate goal of running a sub 3 hour marathon to record a new PB of 2:59:40 in Manchester 2022. To follow that up with my second best marathon a few months later despite multiple setbacks to run 3:04:28 and finish 35th V40 at London. She adapted my training, cared and prevented me from pushing and causing myself any further issues. I wouldn't have got through my training blocks, fit and ready on the start line without her!
She is understanding, always available to offer support and advice with a comprehensive knowledge base. Such a personable and relatable approach and I've truly valued our journey together.
I wouldn't hesitate in recommending Jo. She makes training fun but achieves results and that in my view is everything you need from a running coach. I recognised I absolutely needed reigning  in at times and this is where being coached by Jo paid dividends. She's taught me so much about how to get the best out of yourself but also respecting your well-being and body.
She's the best! X
New Marathon PB 3:07:13
I asked Jo to coach me with the goal of getting a marathon PB in the low 3 hours. The reasons I went with Jo was because I knew she would understand my lifestyle, juggling children and a full time job and obviously her running achievements and coaching knowledge and experience!
After a solid training block in 2021, a goal time of 3:05 was set for London Marathon. Unfortunately the wheels fell off at mile 16 and it was a painful 10miles to the finish line. Since that day Jo has given me so much support, she picked me up mentally, she has given me the confidence I needed, she knew I had to be relaxed and to take any pressure off myself to perform at my best.
Jo's feedback and messages were the mental difference in the London marathon 2022 where I ran a huge PB of 3:07:13 to finish in the top 50 V40! Jo has provided me a fabulous, varied training program, with clear instructions and understanding of why I am doing the session! She has provided valuable nutrition advice and accountability (especially on those slow runs to make sure they are easy pace) and she has carefully dealt with illness and injuries, reigning me in, whereas I would have previously made the situation far worse!
Jo had been nothing but a fantastic coach and I would highly recommend her services.
New Half marathon PBs from 1:47 to 1:35 & Return to running post-baby
"
I first reached out to Jo a few months after having my first baby. I was desperate to get back into running (largely for my sanity) and wanted to do so in a sensible manner (and not go out and attempt 10 miles in the first run back). 
We set a target of running a half marathon around 3.5-4months later. From day one Jo understood that running was important to me, that my competitive nature meant I would want to run the half well and that I was getting used to life as a new mum with very inconsistent nights! 
Jo was meticulous in making sure the runs were set out in training peaks and provided feedback on each run. After a block of steady running to rebuild my base she introduced different speed sessions. Progression runs, time based intervals, fartlek sessions, mixed pace long runs. The varied runs kept the running fun and challenging and I loved every minute of it. I couldn't believe that  after such short time together and having a 9 month old  at the time I ran a seven minute PB in the half marathon. A few months later Jo helped me knock off 2 mins off my 10k time and in October I ran another half PB. Jo's expertise and knowledge is clear when it comes to running but for me, more importantly, she understands that there is life outside of running and devotes an equal amount of time finding out how you are and what else is going on. 
If you're looking for a running coach to take your running to the next level look no further and sign up with Jo. But don't be surprised if you find much more. I found a loyal friend, someone with unlimited encouragement and support and an agony aunty (I did say I'd just had a baby and was adjusting to mum life!). Thank you Jo! 
 #TeamJo 
New marathon PB 4:08
"Jo is, simply put, the best coach you could hope for.
Supremely technical, a wealth of experience, focused and yet compassionate and caring.
She wants you to do well, she will push you and work with and she works around your demands – but in a way that is right for you, not for her
In the past 8 months I have put my back out (couldn't walk for a while), got COVID and was ill for a month and I have have been working 70+ hours a week for the past month – it doesn't matter what happens @runningjo10k is there with a plan, she is there with advice and she is there for support.
Hence she is *officially* the best coach of 2020
(Note… I MAY have had the trophy made myself and this may not officially by British Athletics)".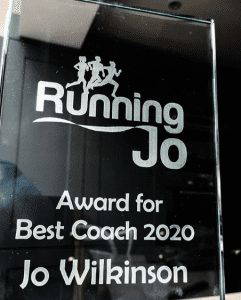 I started coaching Rob in July 2019 with the aim to improve his marathon time and his Ironman marathon running. Over the last year we have worked to improve his running fitness, improved his pace from 5k up to marathon and developed his ability to pace himself better. So far we've knocked nearly 20mins off his marathon time with a far-from-perfect build up to run 4:08 and there's only more to come!
New Runner & First Marathon
Signing up for a marathon was a huge leap for me; a complete novice when it came to running! I felt very lucky to be introduced to Lucy who sent me a personalised training plan, was always on hand to support me via Whatsapp and who went out of her way to make sure I felt truly supported and motivated throughout the plan.
Lucy worked with me to ensure the training could take place around my schedule and life, sending helpful nutritional advice and complementary exercises to help with any niggles as they arose.
I would recommend Running Jo & the team who went out of their way to support me through my training. Unfortunately, I caught Covid quite badly right before the marathon so I had to defer my place but I really learnt so much and will take that all into my training again for 3rd time lucky.
Don't be put off if you are a beginner – you will soak up their knowledge so quickly and be running like a pro in no time!
New 10k PB
"I began with Jo at the start of May and since then I have given Jo my 100% commitment, the more I've gotten to know Jo the more I feel like she knows me better then I know myself when it comes to running. The relationship has just clicked and a few times this month if I had been coaching myself I would have made the same mistakes but Jo has made sure I've haven't .
The speed sessions have been hard but both fun and rewarding. The most frustrating part is GPS issues. Where I live I am restricted to where there is a flat road to do my session, the only area within 2 miles is the main road at the side of the local reservoir but it is covered in trees so GPS can be blocked by them. This has meant in some sessions the watch hasn't reflected my true pace but this is where my coach has been amazing as Jo looks at all the data not just speed as well as my feedback and her comments back to me keep me from obsessing over my inaccurate pace."
I coached Richard since May 2020 until summer 2022 and in that time we made some significant progress in addressing some of the underlying weaknesses that had previously led to injury alongside overcoming some setbacks. We gradually building a good aerobic base, pace and fitness and finished with an outstanding 10k PB of 35mins.
First marathon and new HM PB
"Thanks to Jo I have completed 2 half marathons. Jo coaches me from a distance (we live in different counties) and provides weekly feedback and adapts my plan if things change slightly i.e. I don't complete my weekly miles! I really believe I couldn't have completed them without her"
Nicola and I have worked together for two years. Her initial aim was to complete her first half marathon which she did in 2:09. We started by increasing her mileage and introducing some basic strengthening exercises to prevent injury. From there we worked on intervals and faster paced running as her goals moved from completing the distance to running her target time. She went onto lower her PB to 2.02 whilst training for her first marathon. She then successfully completed the 2019 Brighton Marathon in 4:45 which had been her ambition for some time.
First 10k
I started coaching Margaret after she initially joined with one of my beginners groups. Her ambition was to complete Abersoch 10k in under 70minutes but she was finding it hard to motivate herself with just her running app and struggled to run continuously without stopping. Instead we focused on increasing "time on feet" with a mixture of running and walking and included one run with some faster paced reps each week to simultaneously improve her fitness.
Margaret has progressed from being a beginner to being able to complete parkrun without stopping in under 35 minutes and only narrowly missed her target by finishing the challenging 10k (including the last km on the sandy beach)  in 70.02. After after a few months off to recover from a bunion operation Margaret is back running regularly three times per week. She has progressed to regularly running 5k in 35 minutes, running one faster intervals session each week and increasing her overall distance in her longest run each week to over 10k.
We are now working together to improve Margaret's 5k time and complete her first half marathon in Autumn 2020.
New runner
"Jo's coaching is changing my attitude to running! I have never liked running but it is something I want to be able to do better and without feeling like it's such an ordeal. The coaching from Jo has helped me become faster and I now run for half an hour without it feeling like it's a constant struggle. The format of the sessions means we have achievable aims and I find they go much faster than I expect. I am definitely becoming a better runner and I also don't mind running so much anymore"
Cathryn wanted to improve her 5k time and to enjoy her running more to compliment her fitness and weightlifting. Over a series of weeks we worked on interval sessions to improve her running fitness and pace and build her confidence (and even her enjoyment) in her running.
Return to running and fitness
"Just completed my first session with Jo. I was pretty nervous beforehand but that turned out to be my mind playing tricks on me and telling me I would be awful. Jo provided great tips on form (now I know where I've been going wrong!), a highly motivational coaching technique and generally made my nerves disappear within minutes. If you're even a tiny bit interested or even intrigued as to whether it's for you, I'd say DON'T HESITATE – give it a go!"
Suzanne and I worked together to improve her 5k time by focusing on improving her form and technique and developing her fitness by introducing intervals and running sessions into her weekly activities.
"Jo is so inspiring, always there to listen and help find ways so you can improve in your running. She is on hand to give you tips with your technique and has shown us some great strengthening exercises. She always encourages you to be the best you can be and when things don't go so well, she reminds you that you need to focus on the positives. She has helped me so much already."
Over the last year Alison has been training with my group at Watford Harriers and she competes on track, road and cross country.
In 2018 she ran 21.58 for Parkrun and 46.54 for 10k as well as a new personal best of 6.07 for 1500m Steeplechase before being part of the successful 3rd place Watford Harriers Womens Veteran team in the 2018/19 Chiltern Cross Country League.
"Jo knows her stuff and I'd recommend her as a coach. Yes, she's very experienced but she also uses that experience to adapt her coaching according to your ability. Significantly, Jo encourages you to enjoy your running."
Richard trains regularly and competes in different events including parkrun. Most recently he finished the Berkhamsted Half Marathon in cold, windy and wet conditions in 1.44.46.