A Year In The Life Of An Aspiring Marathon Runner
Randomly looking back at 2007. Why 2007? Because the Chichester 10k came up in a conversation with another coach from that area. I couldn't remember when I'd run there. He found the results: 7th place, 34:14. Unable to remember the details I took a look back in my training diary.
It turns out that 2007 was a very good year.
Race results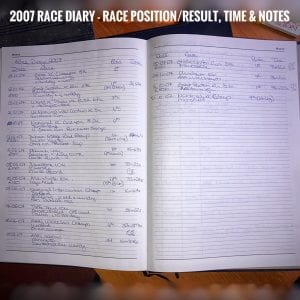 The year started with two great cross country results. 4th in the English National Cross Country Championships and 4th in the UK Intercounties Cross Country Championships.
Two 10k PBs – one on the road and one on the track – plus a handful of sub-34min runs.
Two half marathon PBs.
And a bronze medal on the track in the AAA Championships over 5000ms. In a windy, slow and tactical race so my training notes tell me!
But 2007 is interesting for other reasons too.
It was the year I started talking to my coach about moving up to become a marathon runner. The year I introduced cross training into my schedule. The year I started regular strength and conditioning workouts too.
But the more than anything 2007 illustrated that consistency is key
Consistency is key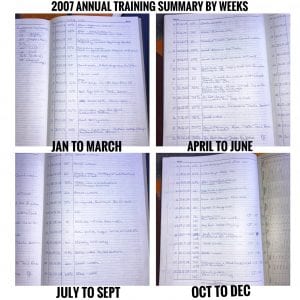 2007 started with very good consistency which paid off in the good results I achieved as the year went on. Week on week of good quality training. Focused sessions and progressive plans which tapered to reach a peak for key races.
Consistency was underpinned by regular steady running throughout the week. Most weeks included one or two double days and the second run was usually 25-35minutes steady running. My aerobic base was supported by a regular long run between 13-15miles each week. Steady running has been the foundation of my training for years regardless of specific race focus.
Track sessions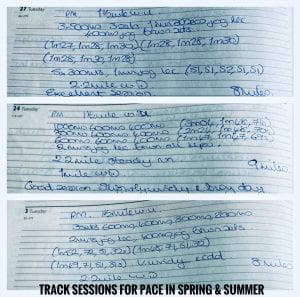 Even though my main focus were road races, as spring turned to summer, we also included one good quality track session most weeks. These helped develop pace and maintain speed. Even as I progressed onto marathon running in later years, track sessions still featured within my plan, albeit with less frequency.
In 2007 in the absence of GPS track sessions were the one session when I could measure exactly what pace I was running. However, to me as an athlete, the biggest benefit was that the ability to run 1500-5k pace sessions on the track meant the start of a 10k road race, or later the marathon, felt comfortable by comparison.
Hill sessions and fartleks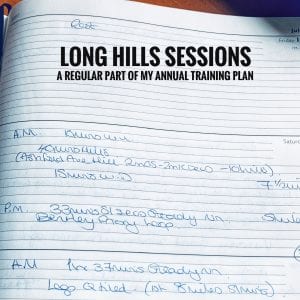 Even outside of cross-country season, I ran regular hill sessions throughout the year to build strength and endurance. The long hill reps with their mix of gradient from shallow to steep meant that the ability to judge effort on each one was essential. Mentally, alongside track sessions, these were my hardest workout each week. It's fair to say I hated those two-minute hills. But as well as building fitness, each one also built confidence in my ability to push myself when it was hard. Another essential skill for marathon running.
Fartleks were another regular feature. Usually unstructured although often around the same, familiar course. Despite the unstructured nature they were a key session in building fitness. They provided a nice counter-balance to the focus and structure of track sessions. What's more the Bedford* fartlek was my standard pre-race indicator of form and helped me to judge how each training block had gone. *So named as I ran it on the same loop in Bedford.
Juggling life and running
My training diaries were also an insight into the realities of fitting training into the rest of life. Especially the balance between being a mother and being an athlete. There is a common misconception that many endurance runners are full time athletes. This is rarely the truth.
My son turned two years old in 2007. References to him being ill or interrupted sleep pop up throughout the year. These often meant we missed runs or swapped training days. Sometimes for practical reasons – usually lack of childcare. Sometimes for physical reasons – too tired to train as hard as I wanted. The key was flexibility and adaptability.
Lack of GPS meant the focus was on effort and feel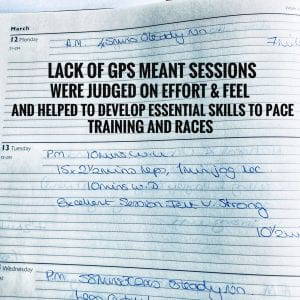 In 2007 I didn't have a GPS watch. All the measurements listed in my diary were general approximations, apart from a few courses measured in the car. The assessment of each session was based on how I felt subjectively rather than any objective measure. I fundamentally believe that these years of training without GPS helped me to develop the key skill and ability to judge pace and effort in races when it counts most.
However, these days I admit I'm as guilty as any other runner of being firmly wedded to my GPS. Then obsessively analysing the pace data after each run. Yet my training diaries of 2007 confirm that whilst GPS data is a very useful tool, it's only one element of good quality training and coaching.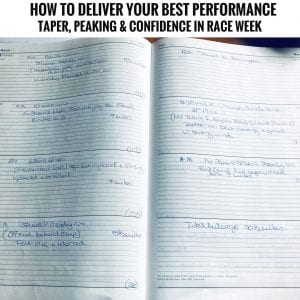 Building the foundations for a good marathon
2007 was also the year I started to talk to my coach about moving up to marathon. I was keen to run London in April 2008. My coach was less enthusiastic. His view was that to run a good quality marathon I needed to build a greater foundation in training first. His advice was to run a good quality half marathon then move up. A decision vindicated by my huge 72:36 half marathon PB in October 2008 and my 2:37:39 marathon debut in 2009.
Now as a coach it's interesting to look back at my own progression as an athlete. The key is to understand the difference between finishing a marathon and running a good quality marathon. Anyone can do the first. To achieve the second takes considerably more time and training.
Don't just train more, train smarter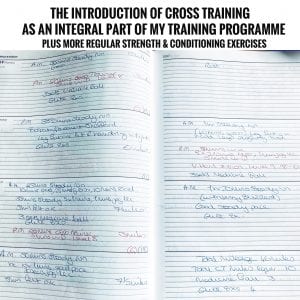 Then there was the introduction of cross training. Although 2007 was a good year I had also reached a plateau. If you look at the weekly summary in the latter part of the year, you see the consistency was starting to crumble.
As a coach I look back and see that my steady runs and long runs were consistently run too hard. My training started to be interrupted by illness and injury just as I wanted to start training harder. The key was to train smarter not just harder.
Towards the end of 2007 I started to introduce cross training into my programme as a planned integral element. Cross training workouts replaced the second steady run on my double days. This allowed me to increase my base aerobic fitness whilst decreasing the load on my legs. The lower intensity also helped me to manage my energy and fatigue better despite the increased volume.
The second major change was the introduction of regular strength and conditioning workouts. Childcare issues meant these were developed to be workouts I could do at home. In partnership with my physio they focused on key weaknesses and helped to eliminate many of the niggling injury issues.
From 2007 to 2008 and beyond
These two changes helped me to build volume in training. Changes which would pay off in 2008 with representation for the GB team at the World Cross country Championships, a new half marathon PB and eventually in the marathon itself in 2009.
So there you have it. 2007. A year in my life as an aspiring marathon runner. On reflection, it was a pretty good year and a stepping stone for future success.